Bathroom Remodeling in Cypress, TX
Although the bathroom is among the smallest rooms in your home, it might be challenging to remodel due to the plumbing and the large fixtures in place. A way to get the final result that you want that's functional and beautiful to view is by contacting a Cypress bathroom remodeling company. Here are a few tips to keep in mind to make the process easier.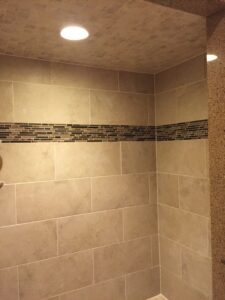 Benefits Of Bathroom Remodeling
When it comes to home improvement, a bathroom remodel can dramatically enhance your home's comfort, functionality, and value. Texas Floors, serving Cypress, TX, specializes in comprehensive bathroom remodeling services, offering innovative designs, top-quality materials, and expert installation. Here are some of the key benefits of our bathroom remodeling services:
Improved Functionality: Our remodeling services can enhance the utility of your bathroom, whether it's adding extra storage space, installing a double vanity, or upgrading your shower and bath.
Increased Home Value: A well-executed bathroom remodel can significantly increase the value of your home, making it a wise investment if you plan to sell in the future.
Enhanced Energy Efficiency: Our remodel can help reduce your utility bills and make your home more sustainable by installing energy-efficient fixtures and appliances.
Comfort and Luxury: Our team can transform your bathroom into a spa-like retreat, adding luxury elements such as a soaking tub, a rain shower, or heated floors.
Customization: From the tiles to the tub, every aspect of your bathroom can be customized to match your style and meet your needs.
Quality Materials: We use high-quality materials to ensure that your newly remodeled bathroom stands the test of time.
Expert Installation: Our skilled team has extensive experience in bathroom remodeling, ensuring the project is completed with precision and care.
Stress-Free Process: We manage all aspects of the remodel, from design to installation, making the process seamless and stress-free for you.
With Texas Floors at your service, your dream bathroom is just a call away. Enhance your home's comfort and value with our professional bathroom remodeling services.
Cypress Bathroom Remodeling

: Cost

One of the things that you're going to have to look at is the project's overall cost. If you have a budget, you need to make sure the Cypress bathroom remodeling contractor knows how much you can comfortably spend before you get in over your head. If possible, try to set aside a little more money in the event of any emergencies that could arise during the remodeling process. When calculating the costs, some things include the size of your bathroom, whether or not you need to do any rewiring or change any plumbing, and how fancy you want to get with the amenities. 
Cypress Bathroom Remodeling Basics

A remodeling detail to keep in mind for your bathroom is the position of the toilet and what's seen first when the door is opened. You want to try to position the toilet so that it's in the corner of the room or behind a counter. This is because many bathrooms doors stay open throughout the day, and you don't want people walking by the room and seeing the toilet on display. A Cypress bathroom remodeling company can offer suggestions about things that can be pleasing to view when the door is left open. 
Lighting
Since the bathroom is a small area, it might feel darker than in other rooms. Even if there are windows, try to look for ways to add more light during the remodeling project. A skylight is a good idea that keeps people from looking inside the room from outside your home. Consider adding layers of lighting to the bathroom, such as overhead lights and small lights around the mirror. When you talk with a Cypress bathroom remodeling contractor, you can get a few details about hanging lights and ambient options that can add to the layers of light in the room. 
Heights
When you're getting measurements for a Cypress bathroom remodeling company for the sink, toilet, and tub, think about the heights of the people in your home. The sink should be at a comfortable height so that it's easy to wash your hands and brush your teeth. The tub needs to be at a height so that you don't have to step over too much to get into it when you take a bath. It would help if you also thought about the toilet as you don't want it to be too low to the floor as this can be uncomfortable for adults. 
Before you begin the design process, consult with a Cypress bathroom remodeling company to get a few ideas about everything from positioning new lights to what should be seen when someone peeks inside your bathroom.